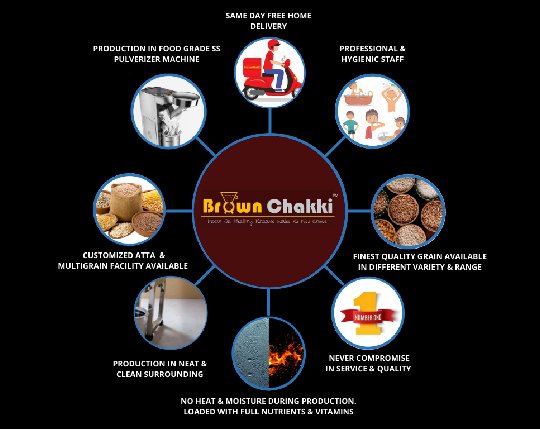 Welcome to Brown Chakki
Brown Chakki is the first Flour Chakki in India converted from un organize to organize & professional Platform. We started our operation from Mumbai in May 2021. Our concept to provide a fresh and healthy atta process in the hygienic surroundings, same day production, and same-day free home delivery for customers. We keep the number of verity grain for production in the different price ranges. To support our customers we take Orders through the Site, Mobile App & counter sale.
In order to ensure the quality of flour product to reach customer, Brown Chakki use finest quality grains sourced from the best farms, Food grade pulverizer flour mill & Stain less Steel accessories for production. We produce flours that are free of any kind of chemicals or preservatives we serve natural products.
We are committed to provide healthy products to the nation with love & care and no compromise in service and quality at the minimum cost possible. Brown Chakki is a complete package of health benefits loaded with essential nutrients.